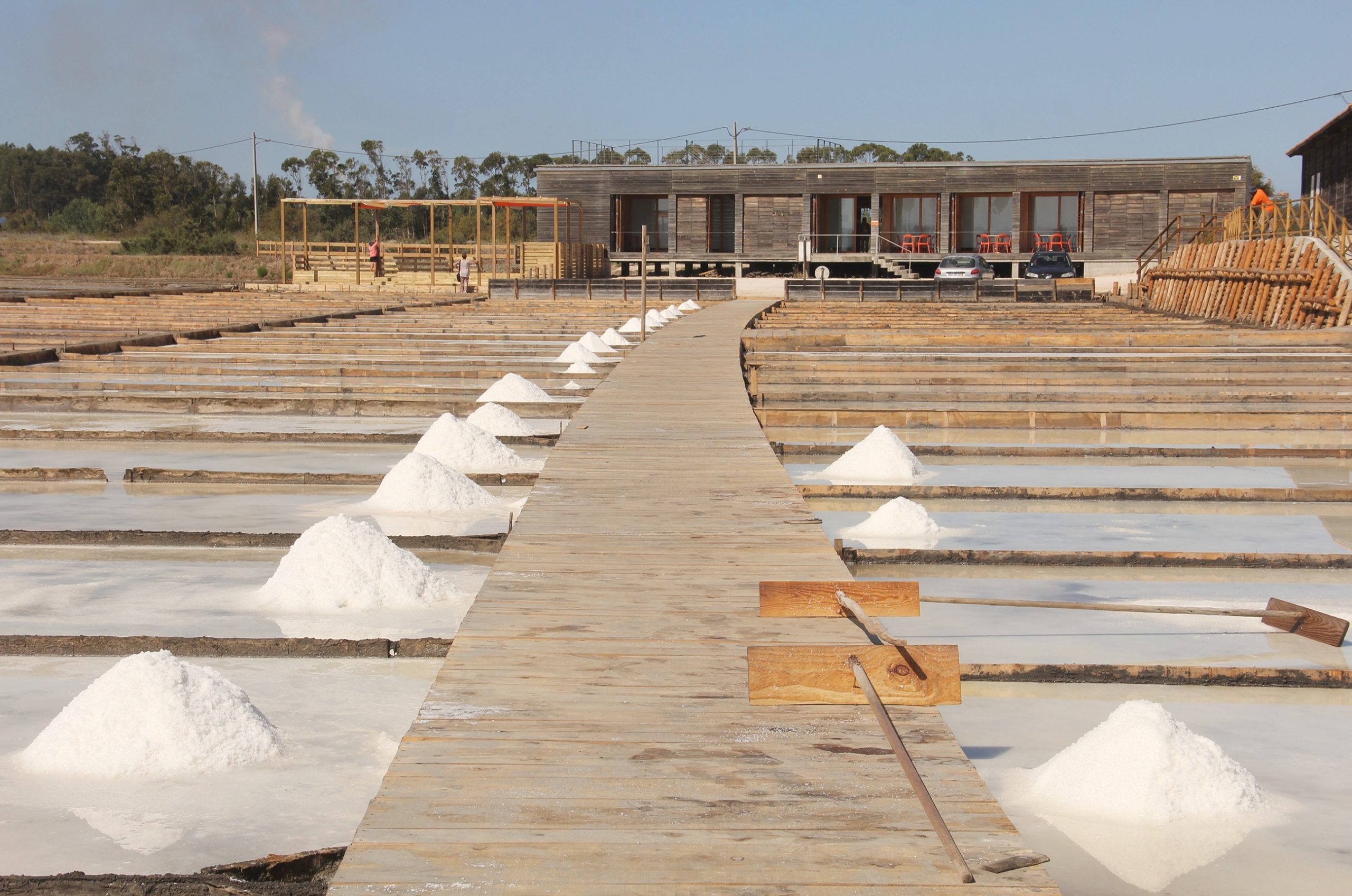 The Núcleo Museológico do Sal was inaugurated on August 17, 2007 with the objective of interpreting, valuing and disseminating singular testimonies related to the secular relationship of Man with the territory of the salt pans of the municipality of Figueira da Foz.
Located in the Municipal Salina of Corredor da Cobra, acquired in 2000 with the aim of promoting the reactivation and continuous maintenance of saline activity, this cultural and environmental complex includes a Salt Warehouse, a Pedestrian Route through the salt, approved by the Portuguese Camping Federation and Mountaineering, a River Route through the Mondego River estuary and also a bird observatory with a landscape reader of the territory that embraces it.
This museum space increasingly assumes itself as a center of information, education and awareness of diverse audiences for the need to preserve a traditional activity and a handcrafted product, thus contributing, in an integrated way, to the valorization of this heritage as a factor sustainable local development.
It is a local and national center open to research and information on the richness of the biodiversity of its type ecosystem and a didactic unit for leisure and interactivity. It is a space that provides the different audiences that visit it with unique and private experiences.
Its museological program was designed by the environmental consulting company Mãe d 'Água, Lda., With the support and monitoring of the Municipality's cultural services.
The visitor is confronted with the explanation of five major themes: What is Sal; Salt in Nature; History of Salt in Portugal; The Salt Technology in Figueira da Foz and The Production Cycle; and Salinas and Nature Conservation.
Within the scope of the 8th anniversary, marked throughout the month of August 2015, the Núcleo Museológico do Sal carried out several important initiatives, in particular the inauguration of the first Portuguese "Pedarium", a "small infrastructure destined to the use of traditional salt as a form of therapy, health and well-being, which takes advantage of the typology of salt pans and whose construction was co-financed by the European Fisheries Fund (FEP), and fully respected the environment, insofar as the material used it was only and only untreated pine wood, an element commonly used in the fig tree salt".
Almost at the end of 2015, the Salina Municipal do Corredor da Cobra received two new tenants. Two giant flamingos, made of fiberglass, by sculptor António Faustino. Martinho and Salgadinha were sponsored by the EB1 students of Regalheiras de Lavos.
Source: Câmara Municipal da Figueira da Foz